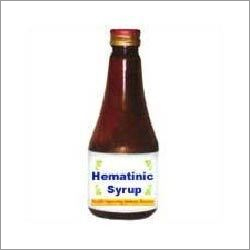 Hematinic Syrup
Product Description
We are one of the leading manufacturers and suppliers of Hematinic Syrup. It is formulated by using premium quality compound that is sourced from the certified vendor of the market. The iron supplement is widely used to treat and prevent low blood level and to increase hemoglobin of the blood. Our clients can avail this Hematinic Syrup from us at competitive prices.
Features:
Rich source of vitamin B12

Safe to use

Accurate compositions
In Immunosuppressant Medicine we are offering formulation of api B-Complex + Vit C, Beta Carotene + Vit. A + Vit. E, Ca Carbonate, Vit D3, Calcium Carbonyl Iron, Folic Zinc Sulphate, Vit B12, Chromium Picolinate, Cyproheptadine, Tricholine Citrate, Cyproheptadine Hcl, Elemental Calcium, Ethamsylate, Ferric Ammonium, Sorbitol Soln, Ferrous. Fum., Zinc Sulphate Iron Choline Citrate, L-Lysin, Iron Polymaltose, Lactobacilli, Thiamine, Riboflavin, Pyridoxine, Niacin Amide, Lycophene, Dl-Methionine, Choline Bitar Selenious Acid, Green Tea Extract, Pyridoxine, Mecobalamin, Pentoxifylline, Pepsin, Diastase, Pyritinol ,Silymarin, Sol. Vitamin, Spirulina, Tricholine Citrate, Niacinamide, Calcium Dibasic Phosphate, Biotin, D Panthol, Niacinamide 50 Mg, Calcium Di-Basic Phosphate, Vit. A Ace, Vit. C Coa., Calcium Pantothenate Vit, A Palm., Nicotinamide, Zinc Sulphate, Vitamin A Palmitate etc in different combination & dosage form like tablets ( sugar coated/ enteric coated/ film coated/ extended release/ slow release/ dispersible tablets/ effervescent tablets), capsule, injection, creams, ointment, syrup, ampoule, liquid tonics, powder, sachets, granules, ors powder etc.
En Medicina inmunosupresor estamos ofreciendo formulaci³n de api-B Complex + Vit C, beta caroteno + Vit. A + Vit. E, Ca Carbonato, Vit D3, calcio Carbonyl Hierro, Zinc Sulfato flico, vitamina B12, picolinato de cromo, ciproheptadina, tricolina Citrato, ciproheptadina Hcl, calcio elemental, etamsilato, frrico amnico, Sorbitol Soln, ferroso. Fum., Sulfato de zincHierro de colina Citrato, L-lisina, Hierro polimaltosa, lactobacilos, tiamina, riboflavina, piridoxina, Niacinamida, licopeno, DL-metionina, colina Bitar selenioso cido, extracto de t verde, piridoxina, mecobalamina, pentoxifilina, pepsina, diastasa, Piritinol, silimarina, Sol. Vitamina, Spirulina,tricolina Citrato, Niacinamida, calcio dibsico fosfato, biotina, D Pantenol, Niacinamida 50 Mg, Calcio Di-Basic fosfato, Vit. A Ace, Vit. C Coa., Calcio pantotenato Vit, una palmera., Nicotinamida, sulfato de zinc, vitamina A palmitato etc ... en diferentes combinaciones y forma de dosificacin como comprimidos (azºcar recubierto / cubierta entrica / pelcula revestida / liberacin prolongada / liberacin / comprimidos dispersables lentos / efervescente comprimidos), cpsula, inyeccin, cremas, ungento, jarabe, ampolla, tnicos lquidos, polvos, sobres, grnulos, polvo ORS etc.