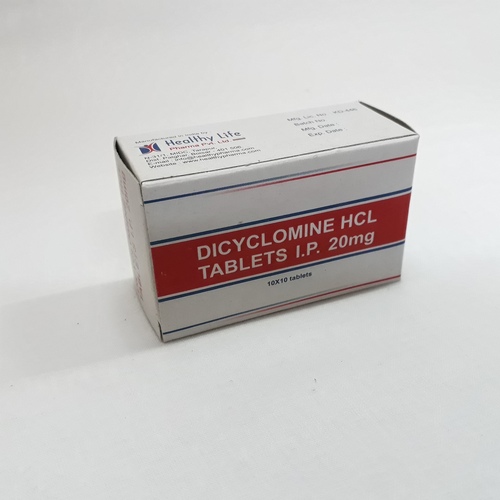 Dicyclomine HCL Tablets IP 10 mg
Product Description
Each uncoated tablet contains :
Dicyclomine HCL IP 10 mg
DESCRIPTION

Dicyclomine hydrochloride is an anticholinergic (antimuscarinic) and antispasmodic agent which can be availed in given forms:
Each tablet of 20 mg for oral administration has dicyclomine hydrochloride. Other inactive ingredients in it are FD&C Blue No. 1 Lake, Anhydrous Lactose, Microcrystalline Cellulose, Magnesium Stearate and Lactose Monohydrate.

Structural formula of Dicyclmine Hydrochloride is [bicyclohexyl]-1-carboxylic acid, 2-(diethylamino) ethylester.
Dicyclomine hydrochlorides take place as a white, fine, crystalline, almost unscented powder with a sour taste. It dissolves in water, generously soluble in chloroform and alcohol, and somewhat soluble in ether.

INDICATIONS AND USAGE

For the treatment of irritable or functional bowel syndrome.

CONTRAINDICATIONS

Disruptive uropathy

Disruptive disease of the gastrointestinal tract

Critical ulcerative colitis

Reflux esophagitis

Unbalanced cardiovascular status in severe hemorrhage

Glaucoma

Myasthenia gravis

Evidence of prior hypersensitivity to dicyclomine hydrochloride or other ingredients of these formulations

Infants less than 6 months of age

Nursing Mothers
WARNINGS
In the existence of a high ecological temperature, heat prostration may happen with the use of this drug (heat stroke and fever due to diminished sweating). On case symptoms appear, the use of the drug should be stopped immediately and necessary measures should be instituted.

One of the early signs of partial intestinal disruption in the patients of ileostomy/colostomy is diarrhea. In this case, treatment with this medicine will not be useful or may be harmful.
Blurred vision or drowsiness may happen due to hydrochloride. Patients on this medication should not indulge in the activities requiring mental awareness like operation of machinery, driving motor vehicle, etc.
Patients on anticholinergic drugs have been suffered with psychosis. Central nervous system symptoms and signs comprise disorientation, confusion, periodical memory loss, dysarthria, hallucinations, coma, ataxia, euphoria, fatigue, decreased anxiety, insomnia, mannerisms, agitation and irrelevant affect. These symptoms of CMS generally solves in 12-24 hours after the use of drug is stopped.