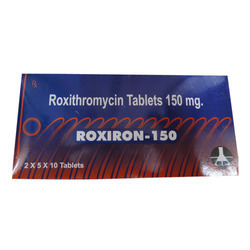 Roxithromycin Tablets
Product Description
What ROXITHROMYCIN is used for?

Roxithromycin is prescribed to treat bacterial infections in varied body parts. For example:

acute pharyngitis (discomfort and sore throat when swallowing)

tonsillitis

sinusitis

acute bronchitis (bronchi infection caused by coughing)

pneumonia (lung infection followed by malaise, fever, headache, etc.

soft tissue and skin infections

non gonoccocal urethritis

bacterial infection which cause sores on skin or impetigo
Roxithromycin which is an antibiotic from the class of medicines known as macrolides.

These antibiotics are specialized in killing or stopping the development of the bacteria that which cause infection.
Roxithromycin, which is an antibiotic does not protect or treat viral infections like flu.

Your doctor may recommend you this medicine for other reasons as well. Ask any questions if you have from your doctor. Consult your doctor that why he has prescribed it to you. This medication is availed only by showing doctor's prescription.

Roxithromycin is not addictive.

Before you take ROXITHROMYCIN
When you must not take it

Do not take roxithromycin if:

1. you are allergic towards:

- roxithromycin or other available macrolide antibiotics like clarithromycin, azithromycin, or erythromycin.

- any of the components given at the conclusion of this leaflet

Some of the signs of an allergic reaction may comprise wheezing, shortness of breath, or swelling of the lips, face, tongue or other parts of the body; difficulty breathing; itching, rash, or hives on the skin.

1. you have critical liver problems

1. you are on specific medicines prescribed for migraine headache known as ergot alkaloids like Cafergot, Dihydergot; Ergodryl

Consult your doctor if you are not sure about the use of these medicines.

1. the packaging the packaging is torn and tampered

1. the expiry date on the pack has passed.

If you take this medicine after the expiry date has passed, it may not work as well.

If you are not sure whether you should start taking roxithromycin, talk to your doctor.
Before you start to take it

Tell your doctor if:

you are pregnant or intend to become pregnant

your doctor will tell you the benefits and risks of taking roxithromycin

you are pregnant or breast-feeding. This medication passed into milk of breast and may harm the baby.

Your health care provider about the possible risks of taking roxithromycin during lactation period.

You had medical conditions/ problems like kidney diseases (impaired function) or liver problems ascites/hepatic cirrohosis like jaundice, etc.

You are allergic towards any medicine or other substances like foods, preservatives or dyes or food supplements.