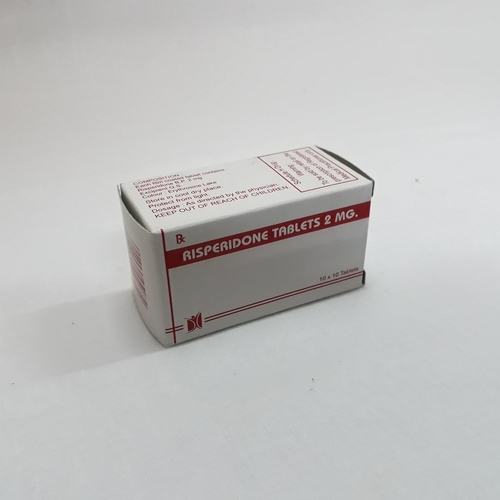 Risperidone Tablets 1 mg
Product Description
Risperidone Tablets 1 mg
Each film coated tablet contains:Risperidone BP 1 mg

Risperidone have risperidone, which is a typical antipsychotic from the group of the chemical called benzisoxazole derivatives. Its chemical formula is 3-[2-[4-(6-fluoro-1,2-benzisoxazol-3-yl)1-piperidinyl]ethyl]-6,7,8,9-tetrahydro-2-methyl-4H-pyrido[1,2-a]pyrimidin-4-one. C23H27FN4O2 is the molecular formula of this with molecular weight 410.49. It is slightly beige to white powder. It is not soluble in water and dissolves in methylene chloride, methanol and HCL.

Risperidone Tablets is for oral use only and can be availed in 0.25 mg, 0.5 mg, 1 mg, 2 mg, 3 mg, and 4 mg compositions. These tablets contain inactive components like hypromellose, colloidal silicon dioxide, microcrystalline cellulose, lactose, magnesium stearate, starch (corn), propylene glycol and titanium dioxide. Each 0.25 mg tablet contains yellow iron oxide, 2 mg tablet comprise FD&C Yellow No. 6 Aluminum Lake, 0.5 mg tablet comprise red iron oxide, 3mg and 4mg comprise D&C Yellow No. 10, and 4mg contains FD&C Blue No. 2 Aluminum Lake.

The 4 mg tabs which contain Risperdone can also be availed in 1 mg/ml oral solution. This oral solution also contains inactive ingredients like benzoic acid, tartaric acid, purified water and sodium hydroxide.

Risperidone Orally moldy Tablets can be availed in 0.5 mg, 1 mg, 2 mg, 3 mg, and 4 mg strengths. These tablets also contain the given inactive ingredients: gelatin, Amberlite® resin, glycerin, mannitol, simethicone, sodium hydroxide, carbomer, red ferric oxide, aspartame, and peppermint oil. Apart from this, the 2 mg, 3 mg, and 4 mg Risperidone Tablets comprise xanthan gum.

What are the possible side effects of risperidone (Risperdal, Risperdal M-Tab)?

Immediately take medical help if you feel any signs of allergic reaction like swelling around mouth, lips, face, throat or tongue, hives or experience difficulty in breathing.
Quit taking Risperidone or take medical help if you experience side effects like:

stiff muscles, fever, sweating, confusion, uneven or fast heartbeats;

agitated muscle movements of eyes, jaw, tongue, or neck;

tremor (unrestrained shaking) or drooling;

spasm (convulsions);

chills, fever, body aches,