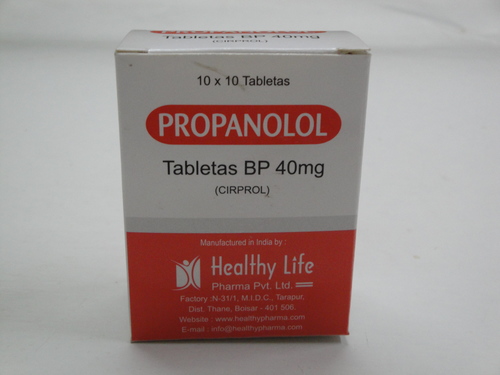 Propranolol Tablets BP 10 mg
Product Description
Propranolol Tablets BP 10 mg
Each Uncoated Tablet Contains: Propranolol Hydrochloride BP 10 mg
What is this medicine?

PROPRANOLOL acts a beta-blocker. These beta-blockers diminish the work pressure on heart and help it in beating regularly. This medication is prescribed for treating high blood pressure, to relieve chest pain due to angina or to control abnormal heart rhythms. It is also prescribed after heart attack. It is also prescribed for relieving uncontrolled tremors or shaking, preventing headache due to migraine. It also helps in preventing problems related to adrenal gland or thyroid.

What should I tell my health care provider before I take this medicine?

Tell your doctor if you have:

Disease related to blood vessel or blood circulation
Diabetes
kidney disease
past of heart attack, heart disease or vasospastic angina
liver disease
breathing disease or other lung related disease, like emphysema or asthma
pheochromocytoma
abnormal heart rate
thyroid disease
an abnormal allergic response to propranolol, or beta-blockers like medicines, dyes foods, or preservatives
pregnant or willing to conceive
breast-feeding
How should I use this medicine?

Take this medicine orally with a glass of water at regular intervals. Do not more dosages than recommended and do not stop taking medicine without consulting the doctor. Consult the pediatrician to know how to use this medicine in children as special care has to be taken for children.
Overdosage: If you have taken an over dose of this medicine than consult your doctor or poison control room immediately.

NOTE: Do not take this medicine without consulting the doctor or do not share it with others.

What if I miss a dose?

In case you miss a dose of this medicine then take it as soon you remember it. If it is the time for next dosage then simply skip the dose. Do not take double dose of the medicine.

What may interact with this medicine?

Do not take this medicine if you are on:

phenothiazines like mesoridazine, chlorpromazine, thioridazine, prochlorperazine,
feverfew
sotalol