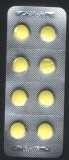 Omeprazole Tablets
Product Description
Each Enteric coated tablet contains :
Omeprazole Magnesium
Eq. To Omeprazole 20 mg
we are offering formulation of api Al Hydroxide, Mg Trisilicate, Tinidazole, Antacid Chewable, Ebastine, Esomeprazole, Famotidine, Hyoscine-N-Butylbromide, Lansoprazole, Magnesium Chloride, Misoprostol, Ranitidine, Pantoprazole, Omeprazole, Simethicone, etc. in different combination & dosage form like tablets (sugar coated/ enteric coated/ film coated/ extended release/ slow release/ dispersible tablets/ effervescent tablets), capsule, injection, creams, ointment, syrup, ampoule, liquid tonics, powder, sachets, granules, ors powder etc.