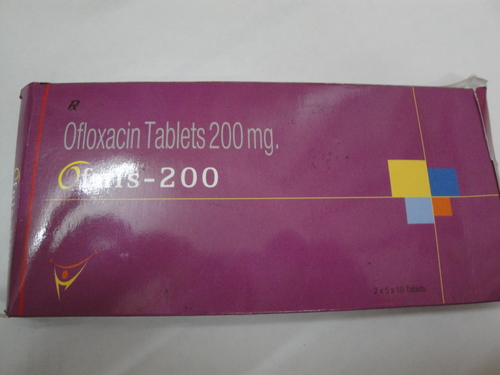 Ofloxacin Tablets
Product Description
Ofloxacin Tablets
Ofloxacin Tablets 200 mg
Each Filmcoated tablet contains :
Ofloxacin IP 200 mg
Excipients q.s
Ofloxacin is prescribed for alleviated danger of tendon disorders. These problems include swelling, pain, breakage of tendons, and inflammation. The people who are greater than 60 years in age are more prone to suffer from tendon problems. Also the patients who have undergone lung, heart or kidney transplants or take corticosteroids are prone to risk. The most often affected part is the Achilles tendon which is at the back of ankle/ foot. Although, certain problems may occur in other tendons like arm, hands, shoulders, etc. Disorders may occur while you are on ofloxacin or even after several months when you stop taking it. Symptoms of tendon related problems include soreness, pain, redness, bruising immediately after injury, welling of tendon joint, feeling or hearing a pop or snap in a tendon area or joint, inability to bear weight or move weight with tendon area. Inform your doctor immediately if you experience any of these signs when you are on ofloxacin or even after several months when you have stopped taking it.

Muscle weakness and breathing problems may occur or worsen in patients who have myasthenia gravis and are taking ofloxacin. Patients with the history of myasthenia gravis should not take ofloxacin.

Ofloxacin is used for:

Treating specific mild to moderate bacterial infections.
Killing responsive bacteria by putting a stop on the production proteins essential for the survival of bacteria.

Do NOT use ofloxacin if:

Any ingredient of ofloxacin or other fluoroquinolone antibiotic causes allergy to you

You have ever suffered with myasthenia gravis

You have unusual levels of blood electrolyte for e.g. low magnesium or potassium or past of a specific irregular heartbeat like QTC interval prolongation.

You are on specific antiarrhythmic medications like procainamide, sotalol, quinidine, amiodarone.

You are on NSAIDs or nonsteroidal anti-inflammatory drugs like ibuprofen
Before using ofloxacin:

Ofloxacin are not recommended to be taken in certain medical conditions. So, it is necessary to tell your doctor, if you are suffering from any below given conditions:

If you are planning to conceive, are pregnant or are breast-feeding

If you are on any herbal supplement, prescription or non-prescription medicine or other dietary supplement

If you are allergic towards any specific kind of food, substance or medicines.

If you are suffering from liver disorders, heart attack or diabetes

If your family member or you have heart disorders like angina, abnormal heartbeat like QT prolongation, low potassium levels or slow or fast heartbeat.

If you have ever suffered or suffering from Alzheimer disease, seizures, hardening of arteries, or disorders related to central nervous disorder.

If you have a past of suffering from rheumatoid arthritis, tendon or joint problems, kidney disorders or diminished kidney functions, or lung, heart, kidney transplant.

If you have sensitive skin to sunlight.