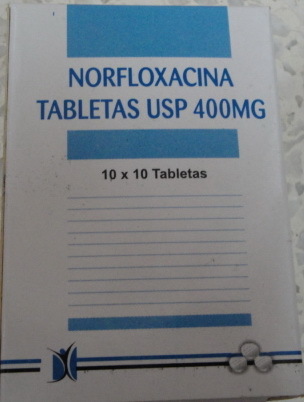 Norfloxacin Tablets IP
Product Description
Each Film Coated Tablet Contains:
Norfloxacin IP 400 mg
DRUG DESCRIPTION

NOROXIN or Norfloxacin is an artificial, wide-spectrum antibacterial mediator for oral use. Norfloxacin is a fluoroquinolone and has its structural formula as 1-ethyl-6-fluoro-1,4-dihydro-4-oxo-7-(1-piperazinyl)-3-quinolinecarboxylic acid. C16H18FN3O3 is its empirical formula.
Norfloxacin is a pale yellow to white crystalline powder and has a molecular weight 319.34. Its melting point is 221°C. It dissolves in glacial acetic acid easily and somewhat dissolves in methanol, water and ethanol.

Noroxin can be availed in 400 mg tablets. Some of the inactive components in it are croscarmellose sodium, cellulose, hydroxypropyl methylcellulose, titanium dioxide, magnesium stearate and hydroxypropyl cellulose.
Norfloxacin is a fluoroquinolone which differentiates from non-fluorinated quinolones as they have n atom of fluorine at the sixth position and also a piperazine moiety at seventh position.

What are the possible side effects of norfloxacin (Noroxin)?
If you feel difficulty in breathing, hives, swelling of throat, lips, tongue or face then consult your doctor immediately.
Stop the use of norfloxacin and consult your doctor immediately if you feel popping or snapping sound, sudden pain, swelling, bruising, tenderness, stiffness or loss of movement of joints. Give your joints rest until you receive medical attention.

Take medical help if you feel severe side effects like:
Bloody or watery diarrhea;
Severe headache with chest pain;

What are the precautions when taking norfloxacin (Noroxin)?

Tell your doctor if you are allergic to norfloxacin or any of its components or to any other quinolone antibiotics like gemifloxacin, levofloxacin, moxifloxacin, ciprofloxacin, ofloxacin, etc. This medicine contains certain inative ingredients that may cause allergy to you. Consult your doctor for more details about it.
Tell your doctor about your medical history, especially if you have diabetes, certain metabolic disease, heart disorder like heart attack, kidney disease, nerve problems like peripheral neuropathy, tendon/joint problems like bursitis/tendonitis, myasthenia gravis, seizure disorder, etc.