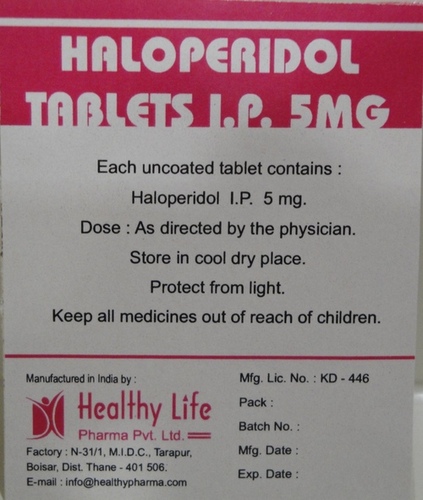 Haloperidol Tablets BP
Product Description
Each Uncoated tablet contains :
Haloperidol BP 1.5 mg
Haloperidol Tablets BP

1. What is Hydrochloride and what it is used for?

This medicine comes in the form of film coated tablet which has hydrochloride as the active ingredient. The other components of this medicine are given in section 6. Hydrochloride is from the class of medicines called beta-blockers. It is used to treat and prevent:

High blood pressure (hypertension)
Angina.

2. what you need to know before you take HYDROCHLORiDE

Do not take Hydrochloride:

if any component of Hydrochloride causes allergy to you. Symptoms of allergy comprise problems in breathing and swallowing, rash, swelling of face, lips, tongue, throat, mouth, etc.

if you have any history of suffering from allergy caused by beta-blockers

if there is acid in large quantity in your blood which is known as metabolic acidosis and may cause alleviated breathing rate

if you are suffering from bradycardia or slow heart beat

if you have hypotension or low blood pressure

if you are suffering from pheochromocytoma or the tumor of adrenal gland and have not taken treatment for high blood pressure with the medicine called alpha blocker like terazosin or doxazosin

if you have critical kidney disorders

if you are suffering from heart failure, hardened arteries, missed heart beats, etc.

if you suffer from wheezing or asthma

if you are on theophylline for treating asthma

if you have ever taken verapamil for treating severe allergies or angina. You must wait for minimum 48 hours before you stop taking verapamil and start taking Hydrochloride.
3. How To STORE Celiprolol hydrochloride

Keep this medicine away from the reach and sight of children.
Check for expiry date and do not use the medicine after the expiry date. The date of expiry is given on the label of the tablet, carton or blister of the tablet. No special requirements are needed to store these medicines.
Do not dispose medicines using wastewater or household waste. Ask your doctor or pharmacist about the manner how to dispose medicines. This will help in the protection of environment.