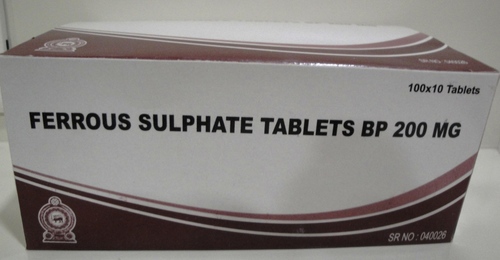 Ferrous Sulphate Tablets
Product Description
Ferrous Sulphate Tablets
We are recognized in the industry for manufacturing and exporting an extensive collection of Ferro Force Tablets. These are formulated using supreme class compound, procured from the authentic vendor of the market and latest processing machine. It is used to prevent and treat iron and folic acid deficiency and can also be used during pregnancy. To ensure quality, these Ferro Force Tablets are rigorously tested on various parameters.
Features:
Extended shelf life
Highly effective
Free from adulteration

1. What Ferrous Sulfate tablets are and what they are used for

Ferrous Sulfate tablets are from a group of medicines known as iron supplements. This medicine replaces the body iron. This mineral is essential for the making of red blood cells. If your body doesn't have enough iron then it will not be able to produce the desired number of red blood cells which are essential to keep you in good health. This circumstance is known as iron-deficiency or anemia.

Ferrous sulfate tablets or capsules are taken for preventing and treating deficiency of iron in body or anemia.

2 Before you take

You should not take Ferrous Sulfate tablets or capsules and inform your doctor if you:
Do not take Ferrous Sulfate tablets and tell your doctor if you:
are sensitive or allergic to dry ferrous sulfate or components of ferrous sulfate
are getting blood transfusions again and again
are getting iron intravenously
are suffering from any disorder in which huge storage or absorption of iron occurs like on hemochromatosis
Contact your doctor immediately or your pharmacist immediately before you start taking ferrous sulfate:
haemolytic anaemia
haemoglobinopathy, a blood disease
an iron absorption or storage disease
gastrointestinal disease
3. How to take?

Ferrous Sulfate capsules or tablets should always be taken as prescribed by your doctor. If you are unaware that ferrous sulfate suits you or not then also consults with your doctor.

Food and Drink

Ferrous Sulfate capsules or tablets should not be swallowed one hour before or within two hours of drinking or eating the given food items like: coffee, tea, whole grains, eggs, etc. as these products diminishes the iron absorption. Products rich in vitamin c and meat can alleviate iron absorption. So, one should always take this medicine exactly as prescribed by the doctor. Follow your doctor's or dieticians advice closely while taking ferrous sulfate diet. You need to swallow whole tablet with water. However, the iron preparations are known to be absorbed best empty stomach but these can be taken after food to eliminate gastrointestinal side effects of it.

Doses:

Adults, people above 18 years of age:

Treatment: 2-3 tablets every day in separated doses
Prevention: 1 tablet every day
Children 6-12 years

Treatment:

Children above 22kg weight: one tablet every day.
Children above 44kg weight: one tablet two times a day
Children above 66kg weight: one tablet three times every day
Children below 6 years or less than 22kg weight
Not recommended.

4. Possible side effects
Like every other medicine, ferrous sulfate also causes certain side effects, however not everybody faces them.

Consult your doctor immediately, if you feel allergic reaction like skin rash, itchy skin, and swelling of tongue, throat, and lips occurs or you face difficulty in swallowing or breathing. Consult your doctor if you feel any side effect from the following:
constipation may cause occasional diarrhea, fecal impaction, stomach pain, feeling sick

Ferrous Sulfate tablets have:

The active component (the substance which makes the tablets act) is dry ferrous sulfate BP. Every tablet has 200mg dry ferrous sulfate BP which is equal to 65mg ferrous iron.
Some other ingredients are stearic acid, microcrystalline cellulose (101) (E460), magnesium stearate, lactose granules, spray dried liquid glucose, and lactose, pregelatinised starch of maize,maize starch, acacia (E414), purified talc (E553), gelatin, titanium dioxide (E171), sucrose, and yellow carnauba wax.