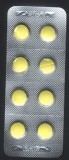 Etionamida comprimidos 250mg
Product Description
Ethionamide is used with other drugs to treat tuberculosis (TB). Ethionamide is an antibiotic and works by stopping the growth of bacteria.

Only this antibiotics to treat bacterial infections. It will not work for viral infections (eg, common cold, flu). Unnecessary use or misuse of any antibiotic can reduce its effectiveness.
In Spanish:

La etionamida se utiliza con otros medicamentos para tratar la tuberculosis (TB). Ethionamide es un antibiótico y consiste en detener el crecimiento de bacterias.

Sólo esta antibióticos para tratar las infecciones bacterianas. No trabajará para infecciones virales (por ejemplo, resfriado común, gripe). El uso innecesario o incorrecto de cualquier antibiótico puede disminuir su eficacia.