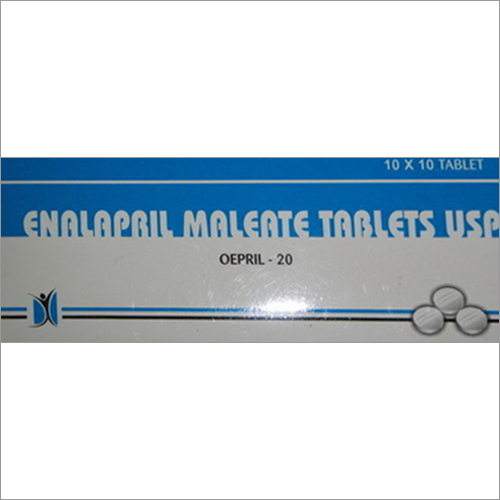 Enalapril Maleate Tablets
Product Description
We are recognized in the industry for manufacturing and supplying an extensive range of Enalapril Maleate Tablets. These are formulated using supreme class compound and latest processing methodology under the guidance of our skilled pharmacists. It is rigorously tested on various parameters to ensure quality at the users' end. These Enalapril Maleate Tablets are used to treat high blood pressure and thus, prevent strokes, heart attacks and kidney problems. This medicine works by relaxing blood vessels so that blood can flow more easily.
Features:
Extended shelf life

Highly effective
Free from adulteration

Further Details:

CARDIOVASCULAR drugs we are offering formulation of api like Doxazosin, Doxofylline, Ezetimibe , Fenofibrate , Fosinopril Sodium , Melatonin , Pravastatin Sodium, Quinapril Hcl , Rosuvastatin, S-Amlodipine, Simvastatin Ezetimibe , Sotalol Hydrochloride Cinnarizine + Domperidone, Pentoxifylline, Acetyl Salisylic Acid (Aspirin Tablets), Clopidogrel Tablets + Aspirin, Aspirin Dispersible Tablets, Dopamine Hcl , phenylephrine hcl, etc in different combination & dosage form like tablets ( sugar coated/ enteric coated/ film coated/ extended release/ slow release/ dispersible tablets/ effervescent tablets), capsule, injection, creams, ointment, syrup, ampoule, liquid tonics, powder, sachets, granules, ors powder etc.
MEDICAMENTOS CARDIOVASCULARES
Fármacos cardiovasculares que están ofreciendo formulación de api como doxazosina, doxofilina, ezetimiba, fenofibrato, fosinopril sódico, melatonina, ácido nicotínico, pravastatina sódica, Quinapril Hcl, rosuvastatina, S-amlodipina, simvastatina ezetimiba, sotalol clorhidrato Cinarizina + Domperidona, pentoxifilina, ácido acetilsalicílico (aspirina tabletas), Clopidogrel tablets + aspirina, aspirina dispersables comprimidos, dopamina HCl, fenilefrina, etc ... en diferentes combinaciones y forma de dosificación como comprimidos (recubiertos de azúcar / cubierta entérica / película revestida / liberación prolongada / liberación / comprimidos dispersables lentos / efervescente comprimidos), cápsula, inyección, cremas, ungüento, jarabe, ampolla, tónicos líquidos, polvos, sobres, gránulos, polvo ORS etc.
inhibidores de la ECA
En Ace InhibitorsDrugs estamos ofreciendo formulación de api como benazepril, Candesartán, Captopril 25 Mg + Hydorchlorthiazide 15 Mg, imidapril, irbesartán 300 mg + 12,5 mg de hidroclorotiazida, lisinopril 10 mg, Olmesaratan, perindopril Erbumine, Trandolapril 1/2/4 mg etc ... en diferentes combinaciones y forma de dosificación como comprimidos (azúcar recubierto / cubierta entérica / película revestida / extendido liberación / liberación / comprimidos dispersables lentos / tabletas efervescentes), cápsula, inyección, cremas, ungüentos, jarabes, ampollas, tónicos líquidos, polvos, bolsitas , gránulos, polvo etc. ors