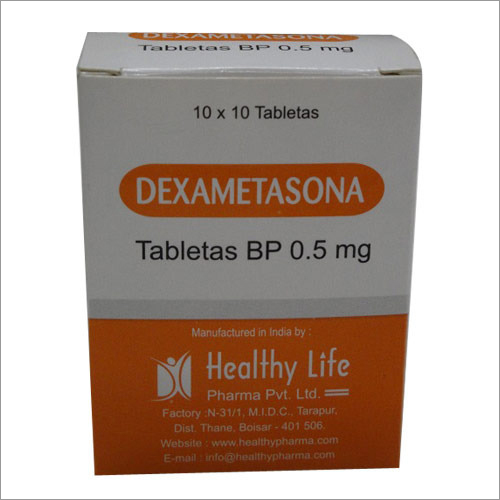 Dexametasona Tablets BP
Product Description
We are engaged in manufacturing and supplying a top class Dexametasona Tablets BP 0.5mg. Keeping in mind the international quality standard, this medicine is formulated using high quality compound that is sourced from the reliable vendor of the industry. This corticosteroid is used to provide relief from inflammation and treat certain forms of arthritis. Our valued clients can also use the product to treat certain type of cancer. These Dexametasona Tablets BP 0.5mg are provided to clients in proper packaging options to ensure that it remain safe during transit.
Features:
Accurate composition
Precise pH value
Longer shelf life
Our company is rated as a striking manufacturer, supplier and exporter of Dexametasona Tablets BP 0.5mg.
Side effects of Dexametasona Tablets BP 0.5mg can include:

Irregular or absent monthly periods, weight gain, increased appetite.
Brittle bones (osteoporosis), tendon rupture, spontaneous fractures, muscle wasting.
Diabetes, reduced carbohydrate tolerance increased insulin need
Mental disturbances such as excitability, depression (risk of suicide in patients with a history of mental disorder), being unable to
sleep (insomnia), delusions (paranoia), psychological dependence, feeling, seeing or hearing things that do not exist.
Stomach ulcers which may perforate or bleed, indigestion, having
more of an appetite than usual, diarrhea, feeling or being sick,
Thrush (candidiasis).