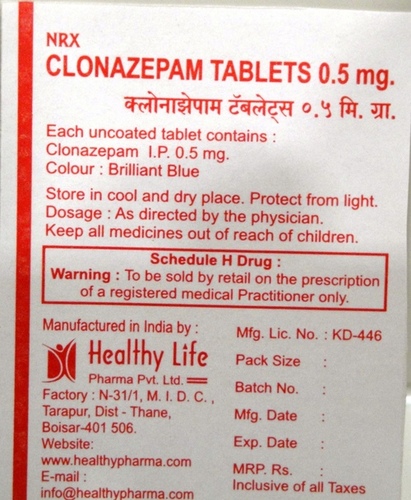 Clonazepam Tablets IP 0.5 mg
Product Description
Each Uncoated Tablet contains :
Clonazepam IP 0.5 mg
What is Clonazepam?

Clonazepam belongs to the group benzodiazepine. Chemicals that are responsible for causing imbalance in the brain are affected by it. It is a seizure medication and is also known as an anti-epileptic drug.
Clonazepam is prescribed for treating some seizure disorders comprising lennox-gastaut syndrome or absence seizures) in children and adults.

Clonazepam is also prescribed for treating panic disorder like agoraphobia in people above 18 years of age.

Important information

Clonazepam is not prescribed to the people who have narrow-angle glaucoma or critical liver disorder or if they are allergic towards Valium or other similar medication.

Consult your doctor if you are suffering from any worsening or new signs of abnormal changes in behavior, depression, or tendency of hurting yourself or suicide.

Use of alcohol is strictly prohibited if you are using this medication. One may get habitual to clonazepam. Sharing of clonazepam is prohibited strictly with another person. Medication should be kept out from the reach of other people. Giving away and selling of this medication is an unlawful practice.

Before taking this medicine

Clonazepam should not be taken, if you have:

acute glaucoma;

critical liver disease; or

a past of allergic reaction to benzodiazepine medications, like alprazolam (Xanax), diazepam (Valium), lorazepam (Ativan), flurazepam, chlordiazepoxide, and others.
To make sure clonazepam is safe for you, tell your doctor if you have:

kidney or liver disease;

glaucoma;

porphyria

emphysema, asthma, bronchitis, breathing problems like chronic obstructive pulmonary disorder (COPD);

a past of suicidal or depression behavior and thoughts;

a past of mental illness, psychosis, or addiction to alcohol or drugs; or

if you are on any narcotic medication.
Some people suffer from suicidal thoughts when they in-take seizure medicines. Your prescriber need to check the progress at regular intervals. Your family members, caregivers need to observe carefully any changes in your mood or other similar symptoms.

If you are pregnant, then ask follow the advice of your doctor carefully. One should not start or quit taking this medication without the confirmation of the doctor, inform your doctor immediately if you are pregnant. Clonazepam can prove to be hazardous for an unborn baby or may also cause problems related to feeding or breathing in a newborn baby. In-taking of seizures during the pregnancy period may prove to be hazardous for both the baby and mother.

Your name may be given in the pregnancy registry if you are pregnant. This is done for tracking the result of the pregnancy and to examine any consequences of clonazepam on adolescents. Clonazepam can mix into the breast milk and can damage the nursing baby.


If you are pregnant, your name may be listed on a pregnancy registry. This is to track the outcome of the pregnancy and to evaluate any effects of clonazepam on the baby.
Clonazepam can pass into breast milk and may harm a nursing baby. You should not breast-feed while using this medicine.