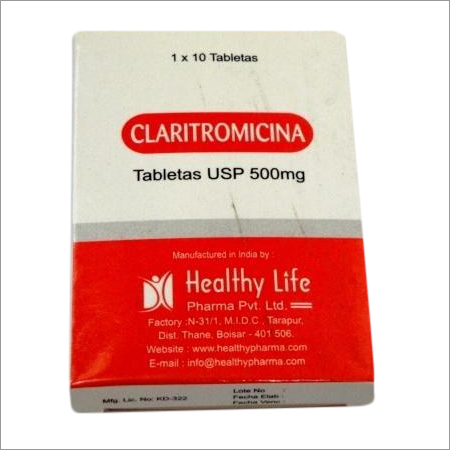 Clarithromycin Tablets
Product Description
Owing to our expertise in this domain, we are engaged in manufacturing and exporting Clarithromycin Tablets 125mg - 250mg - 500mg. These tablets are used to fight bacterial infections that cause skin and respiratory problems. Formulated using premium quality compound by our experts, this is high on demand. These Clarithromycin Tablets 125mg - 250mg - 500mg are tested on various quality parameters to ensure its flawless at the user's end.
Features:
Less side effects
Safe to consume
Extended shelf life
What is clarithromycin?

Clarithromycin belongs to the group of macrolide antibiotic. And it is prescribed to fight bacteria in your body.
Clarithromycin is taken for the treatment of varied bacterial infections which affect the respiratory system and causes skin problems. Along with other medicines this is used for the treatment of stomach ulcers which are caused by Helicobacter Pylori.
Apart from this medicine is also used for several other purposes not listed above.

Important information

If you have record of Long QT syndrome, severe heart rhythm problem, liver problems occurred due to clarithromycin, jaundice, kidney or liver disease or if you are taking colchicines.

Several other drugs and medicines may interact with clarithromycin. There are specific medicines that can pose threat to your life if taken together with clarithromycin, and should be avoided to be taken simultaneously. Before taking this medicine, tell your doctor about any other medicine you are taking.
Take this drug for the prescribed period of time. Signs of infection may disappear completely once the infection is cleared totally. If you skip the dose then the risk of developing further infection may develop which may become immune to antibiotics. Clarithromycin is not used for the treatment the viral infections like flu or common cold.

Before taking this medicine

Use of clarithromycin or other medicines of the same class like erythromycin, azithromycin (Z-max, Z-Pak, Zithromax) is strictly prohibited, if you have any of these:

Critical heart rhythm problem;

Long QT syndrome prevailing;

If you have suffered with liver problems or jaundice caused by in-take of clarithromycin:

If you have suffered with kidney or liver disease and are taking colchicine
Some specific medicines can have severe consequences if taken together with clarithromycin, therefore these drugs should not be taken simultaneously. Your health care provider may be required to change your prescription if you are using any of the below given drugs:

pimozide;

cisapride;

simvastatin or lovastatin;

dihydroergotamine or ergotamine;
For making sure if the use of clarithromycin is safe for you, then tell your prescriber if you have any of these:

kidney disease;

liver disease;

porphyria

myasthenia gravis;

an electrolyte unevenness (like low levels of magnesium or potassium in your blood);

a family past of Long QT syndrome; or

if you use any specific heart rhythm medicine-- disopyramide, amiodarone, dofetilide, dronedarone, flecainide, mexiletine, ibutilide, procainamide, quinidine, propafenone, or sotalol.