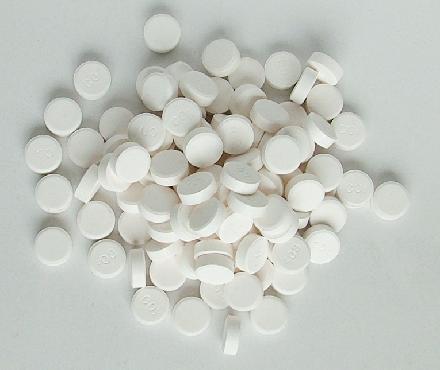 Chlorpromazine Tablets BP 100 mg
Product Description
Each Sugarcoated tablet contains :
Chlorpromazine Hydrochloride BP 100 mg
DESCRIPTION

A phenothiazine derivative, Chlorpromazine hydrochloride, comes with a chemical formula of 2-chloro-10-3(-dimethylamino) propyl] phenothiazine monohydochloride. Structural formula of this is:

Each tablet for oral use contist 25 mg of chlorpromazine hydrochloride, USP. Other ingredients: black iron oxide, acacia, carnauba wax, D&C Yellow 10 Aluminum Lake, calcium sulfate, FD&C Blue 2 Aluminum Lake, anhydrous lactose, calcium sulfate, magnesium stearate, pharmaceutical glaze, methylparaben, povidone, sodium benzoate, propylparaben sucrose and titanium dioxide.

ACTIONS

The exact mechanism of working of chlorpromazine with therapeutic effects is unknown. The chief pharmacological activity of this is psychotropic. Apart from this it also wields antiemetic and sedative actions. Chlorpromazine has its effect at all the stages of the CNS- basically at subcortical levels- and also on multiple organ systems. This medication has weaker peripheral anticholinergic and strong antiadrenergic: ganlionic blocking activity is slight in comparison. It also has slight antiserotonin and antihistaminic action.

INDICATIONS

For treating schizophrenia
To control vomiting and nausea
For getting relief from apprehension and restlessness before surgery.
For the treatment of intermittent porphyria.
As an option in treating tetanus
To control the symptoms of the manic sort of manic depressive illness.
For getting relief from intractable hiccups.
For the medication of chronic behavioral disorders in kids of age 1 to 12 years marked by explosive hyper-excitable nature/ combativeness, and in the temporary treatment of hyperactive kids who present alleviated motor action with associated demeanor disorders comprising of few or all the below given symptoms like aggressiveness, mood change, problem in maintaining concentration, impulsivity and poor tolerance against frustration.
CONTRAINDICATIONS

Prohibited to be taken by the patients with hypersensitivity towards phenothiazines.
Contradicted to be used by comatose states or in the occurrence of the large quantity of depressants in central nervous system like barbiturates, alcohol, narcotics, etc.

WARNINGS

The additional pyramidal symptoms that may happen secondary to chlorpromazine can get puzzled with the central nervous system which is the sign of an unknown basic disease accountable for vomiting for example, Reye's syndrome or further encephalopathy. The in-take of chlorpromazine and further possible hepatotoxins should be ignored in adolescents and children whose symptoms are signs points towards Reye's syndrome.

Tardive Dyskinesia: It is a syndrome comprising of irreversible potentiality, dyskinetic movements, involuntary actions, may build up in patients who are medicated with antipsychotic drugs. Although the occurrence of this syndrome show to be the biggest among the elderly people especially elderly women, still this is not possible to believe on the occurrence approximation to forecast, at the beginning of antipsychotic treatment that may arise the syndrome. However antipsychotic drug medications vary in their power to root tardive dyskinesia is still unknown. The danger of development of syndrome and its likelihood that it will be irreparable are thought to alleviate as the period of treatment and the complete growing dose of antipsychotic drugs monitored in the patients. However, the sign may expand, although in less quantity generally, after comparatively precise treatment with low doses. For tardive dyskinesia there is no set treatment, however the signs may tell about it partially or totally, if antipsychotic treatment is reversed. Antipsychotic treatment on the other hand may depress the symptoms or signs of the syndrome and hence may probably mask the fundamental disease procedure. The consequence which symptomatic repression has on the continuing course is unknown.