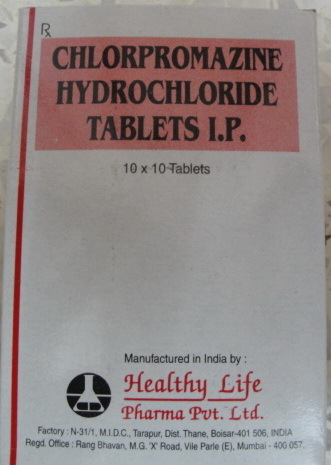 Chlorpromazine Hydrochloride Tablets USP 25 mg
Product Description
Each Sugarcoated tablets contains :
Chlorpromazine Hydrochloride USP 25 mg
1. WHAT Chlorpromazine is used for?

Chlorpromazine has chlorpromazine hydrochloride as the active ingredient. This medicine belongs to the class of medicines called Phenothiazines. This is in-taken for calming down the emotions an brain.
Chlorpromazine is also used for treating:

Schizophrenia

Feeling sick or being sick at the time of an incurable illness
Autism in children and constant hiccups schizophrenia
To cool down your emotions specifically when you feel agitated, anxious, over-excited, dangerously impulsive or violent. Chlorpromazin is also used for preventing shivering.
In case if you don't know that why this medication is prescribed to you, then contact your doctor.
2. HOW TO STORE Chlorpromazine

These medicines should be kept away from the sight and reach of children.
These should be stored at a dry place with temperature below 25°C and should be protected from direct sunlight. These should also be stored in the original container or packaging Container should be kept closed tightly.
Check expiry date before in-taking the tablets, which is printed on the container or package. One should not use expired medicines.
Disposal of the expired medicines should not be done through household waste or wastewater. Take the help your pharmacist on how to dispose of these drugs. This will protect the atmosphere from the harms of these medicines.
3. HOW TO TAKE Chlorpromazine?

Chlorpromazine should be taken exactly as prescribed by your doctor. This should be taken orally.

Adults
General dosage of this drug for adults is 40-300 mg every day in several divided doses.

The dosage of this medicine is prescribed on the basis of the disease or health condition to be treated. Treatment will be started by a low dose and will be increased gradually if required by your doctor.
Weak, elderly or feeble patients are needed to in-take 1/3rd or ½ of the usual dose given to an adult. Your dosage will be slowly increased by your doctor if required.

Side Effects:
Changes in heart comprising faster heart beating, shortness of breath, heart attack resulting in chest pain, unusual heart beats. If one experience any of these then he/she should contact the doctor immediately. Some mysterious deaths have been reported but it is not proved that these resulted from the use of Chlorpromazine.
Lower or higher temperature of body than general.
Dizzy feeling while standing up or low blood pressure. This may be experienced by the elderly people more. Unusual movements of lips, mouths, tongue, eyes, etc. may be experienced. Some usual movements may include shuffling walk, shaking and trembling of feet and legs, inability to sit still, stiffness of legs and arms, twisting of body, and etc.
Changes in eye color, problem with eyesight, etc.
High glucose level in blood or hyperglycaemia. It has the symptoms like frequent urge to urinate, tiredness and feeling thirsty.
Changes in the habits of bowel like constipations.