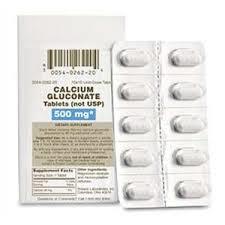 Calcium Gluconate Tablets IP 500 mg
Product Description
Release form and composition
These drugs can be availed in solution in injection 10% or tablet form.
10 pcs. of Calcium Gluconate tablets. Valium Planimetric are packed in cardboard in 1 or 2 bundle packaging.
Each tablet consist 500mg of Calcium Gluconate. Injection of Calcium Gluconate are sold in the vials of 10ml and each cardboard pack comprise 5 or 10 ampoules.

Indications

Calcium gluconate treats below given diseases:

Hypocalcemia;
Toxic liver disease;
Hypoparathyroidism;
Parenchymal hepatitis;
Nephritis;
Poisoning oxalic acid, magnesium salts and other salts (like an antidote).
Eclampsia;
Skin related diseases;
Giperkaliemicheskaya a type of periodic paralysis;
Inflammatory and Exudative processes;
Nasal, Uterine, Pulmonary and Gastrointestinal haemorrhage;
Drug allergies and Allergic diseases;
Contraindications
Calcium gluconate is not used in diseases and conditions like:
Severe hypercalciuria;
The inclination to thrombosis;
Hypercalcemia;
Severe renal failure;
Hypersensitivity to calcium gluconate.
Dosage and Administration

1 to 3 grams of Calcium gluconate tablets are prescribed to be taken orally 2 to 3 times a day.
Calcium Gluconate solution is administered in adults at 5-10 ml. Based on the nature of patient and disease the dosage of solution is overseen every day or every other day.
Calcium gluconate solution for babies was administered as follows:

For 7-14 years: 3-5ml;
For 4-6 years: 2 to 5 ml;
For 1-3 years: 1.5-2 ml;
For 7-12 months: 1-5ml;
For below 6 months age: 0.1-1 ml.
Side Effects

Calcium gluconate sometimes causes side effects like diarrhea, bradycardia, nausea and vomiting. Tissue necrosis may develop if not administered properly.

Special Instructions
Patients suffering or having history of minor kidney disturbances, urolithiasis or small hypercalciuria should use this medicine with caution. In cases like this, constant monitoring of the urinary calcium excretion is required. Patients with the tendency of developing kidney stones should alleviate intake of fluids.
Drug interactions

Action of calcium channel blockers is decreased when taken concurrently with calcium gluconate.
Intake of drug solution after in-taking verapamil diminishes its hypertensive effect and does not have any effect on antirrhythmic properties.
Simultaneous intake of quindine and calcium gluconate can increase toxicity of quindine and can slow down intraventricular conduction.
Under the manipulation of cholestyramine, the absorption of calcium reduces from the digestive system.
At the time of treatment of cardiac glycosides, the use of calcium is prohibited as it can enhance cardiotoxicity.
When calcium gluconate and tetracyclines are administered simultaneously, the previous performance of the medication may get decreased.