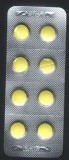 Amlodipine With Atorvastatin Tablets
Product Description
Each Filmcoated Tablet Contains:
Amlodipine Besylate BP
eq. To Amlodipine 5 mg
Atorvastatin Calcium
eq. To Atorvastatin 10 mg
we are offering formulation of api like Amlodipine, Atorvastatin, Amlodipine Besylate, Enalapril Maleate, Ramipril, Trimetazidine Dihydrochloride, Benazepril , Amiodarone , Atenolol, Chlorthalidone, Indapmide , Aspirin, Amiloride , Lostartan , Hydrochlorthiazide, Nifedipine, Metoprolol Tartrate, Mexiletine, Prazosin , Propranolol, Verapamil Hcl, Labetalol , etc…in different combination & dosage form like tablets ( sugar coated/ enteric coated/ film coated/ extended release/ slow release/ dispersible tablets/ effervescent tablets)), capsule, injection, creams, ointment, syrup, ampoule, liquid tonics , powder, sachets, granules, ors powder etc.